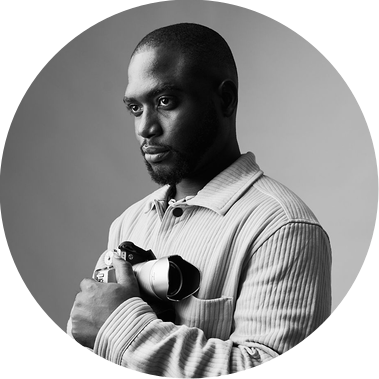 About Me
Steve is a seasoned Creative Entrepreneur, Photographer, and Director based in Accra, Ghana, with an impressive 14-year journey in the creative industry. His unwavering passion for visual storytelling and artistic expression has established him as a leading force in his field.

Starting his career as a graphic designer, Steve quickly discovered his innate talent for Photography and Art. Driven by a deep desire to capture the fleeting beauty and joy of life's moments, he possesses a remarkable ability to establish genuine connections with his subjects. Known for his warm and outgoing personality, Steve effortlessly puts others at ease, enabling him to capture vibrant and animated images that have become synonymous with his unique style.
Steve's versatility as an artist shines through his expertise in storytelling and event documentation. He excels in events, wedding photography, and creating captivating portraits. Additionally, his keen eye for detail and passion for luxury lifestyle photography have solidified his reputation as a respected professional in the industry.

Throughout his illustrious career, Steve has had his work published in magazines like Variety, New York Times, National Geography (KIDS), Dream Wedding, just to name a few. He also has had the privilege of working with an array of distinguished clients, including Ecobank, GNPC, British High Commission, Stanbic Bank, Lancaster University, ABN, Twitter, The Presidency of Ghana, Adidas, Suzuki, Dow, NFL, Afrochella, and MAERSK, to mention just a few. He has photographed over 500 events and over 300 weddings. Each collaboration has further enriched his creative prowess and cemented his reputation as a trusted and sought-after professional.